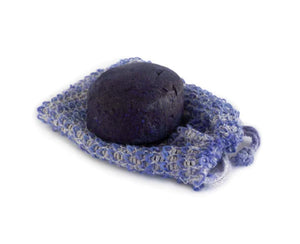 Jewel Equestrian
Eco-Friendly Purple Toner Shampoo Bar
Regular price
$12.00
$0.00
Tax included.
Shipping
calculated at checkout.
100% Natural, Free from Artificial Ingredients & Fragrances!
Include a Reusable Hessian Scrub Bag!
HAIRY PONY ECO FRIENDLY SHAMPOO BARS are a fantastic alternative to plastic bottles! Our specially-formulated bars are solid shampoo & not soap based, so they sud-up well for easy cleaning.
HAIRY PONY ECO FRIENDLY SHAMPOO BARS are a great eco-friendly, plastic-free option for your wash bay. Not only are they full of natural goodness, they are also cost efficient, as they lather up extremely well & avoid liquid spillage. 
Our HAIRY PONY ECO FRIENDLY SHAMPOO BARScontain Lemon Myrtle & Tea Tree Essential Oils which not only smell great, but also have anti-bacterial & anti-fungal properties, helping to alleviate bacteria growth, soothe irritated skin & promote skin healing. 
The ORIGINAL SHAMPOO BAR is suitable for all types of coats. The PURPLE TONER SHAMPOO BAR is an intense gold, brassy & urine stain remover for lighter coats.
Our HAIRY PONY ECO FRIENDLY SHAMPOO BARS are made using 100% natural ingredients, free from artificial ingredients & fragrances, and proudly made in Australia.
Directions for Use
Wet the area you intend to wash on the horse. Place your HAIRY PONY ECO FRIENDLY SHAMPOO BAR into the hessian bag & rinse under water. Rub the bar into your horse's coat, mane or tail to produce a rich lather. Rinse with water when finished.
We recommend using the PURPLE TONER SHAMPOO BAR after washing stained areas with the ORIGINAL SHAMPOO BAR first, as it is very powerful. Use the same amount as an ORIGINAL SHAMPOO BAR & lather up in the coat, mane or tail. Leave for up to 5 minutes before rinsing. 
Ingredients
PURPLE TONER SHAMPOO BAR: Sodium cocoyl isethionate, Cocamidopropyl Betaine, cocoa butter, Incroquat BTMS-50, SLSAa (biodegradable), sodium lactate, hydrolysed oat protein, DL Panthenol (vitamin B5),  liquid Germall Plus, Lemon Mrytle Essential Oil, Tea Tree Essential Oil and Purple toner no.2
---
More from this collection