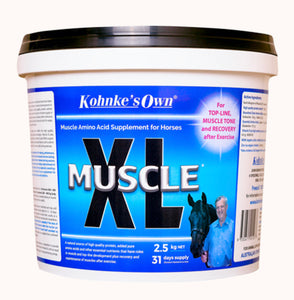 Jewel Equestrian
Muscle XL 2.5 kg
Regular price
$72.00
$0.00
Tax included.
Shipping
calculated at checkout.
Build Beautiful Top-Line and Muscle Tone.

Many horse owners find that their horse occasionally lacks top-line, especially after a rest or spell, or struggles to maintain full muscle function when stepping up to harder training.

Kohnke's Own Muscle XL is the ultimate 'Muscle Food' which can help your horse gain beautiful top-line, improve muscle strength and stamina as well as support recovery after exercise in hard working horses.

The Benefits of Muscle XL:

* For racing, performance, endurance and equestrian horses to build and strengthen muscle tone and top-line.

* Helpful supplement for building muscle bulk and strength in horses with back pain, low muscle mass or muscle wastage problems.

* Super-strength supplement for horses lacking proper muscle bulk, especially old horses which may have reduced muscle mass and condition from reduced protein digestion efficiency.

* Help young horses or 'slabby-sided' yearlings bulk up
pre-sale without excess energy, easy to give with quick results.

* Targeted supplement for recovery after intense training sessions, hard competitions or endurance rides where muscle energy and antioxidant replenishment is paramount.

The ultimate muscle food source with extra nutrients for muscle function and recovery after exercise.

Build beautiful top-line and muscle tone quickly and easily with high level of quality protein, essential amino acids and concentrated branched chain amino acids (BCAAs), organic sulphur (MSM), organic chelated zinc and natural, high potency vitamin E.

See the difference in muscle tone and top-line in just 3 weeks. Muscle XL is best given as a concentrated supplement within 15 minutes after exercise.

Use Muscle XL after training to refuel tired muscles and encourage muscle fibre synthesis, regeneration and repair.

Low sugar formula builds lean muscle, not fat!

Does not cause fizziness or hot behaviour.

Dosage Rate: 1 scoopful contains 40 grams of Muscle XL.

For horses (400 - 600 kg body weight), give 2 scoopsful per day. For ponies (200 - 400 kg body weight) give 1 scoopful daily.

If the horse or pony is severely lacking in muscle or if dietary protein is low or inadequate, give an extra scoopful. Muscle XL can be mixed into the normal main meal or hard feed each day until desired muscle build and top-line is achieved, normally daily for 12 - 30 days. Then continue Muscle XL as required to maintain muscle bulk, usually as a top-up course for 5-7 days each month or after hard exercise and competition. Best results will be obtained with regular exercise, especially if the dose of Muscle XL is given within 15 minutes after exercise when the muscles are warm and ready to preferentially absorb the 'muscle food' provided by Muscle XL. In this case, Muscle XL may be given as a targeted dose combined with 1-2 litres of chaff, lightly wet with water.

Give Muscle XL as an oral paste after hard training or competition to provide specific nutrients for muscle recovery. Mix the dose of Muscle XL with an equal volume of water and administer over the tongue in a large oral dosing syringe.
---
More from this collection